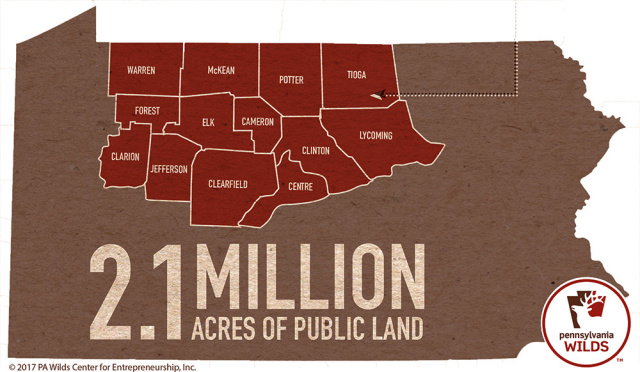 Pennsylvania Wilds
Pennsylvania Wilds is a region occupying much of northern Pennsylvania, covering approximately 25% of the states land and includes 13 counties. Despite its large size, the area is home to less than 4% of the state's population. The region is home to more than 2 million acres of public land and is one of the best outdoor recreation destinations in North America.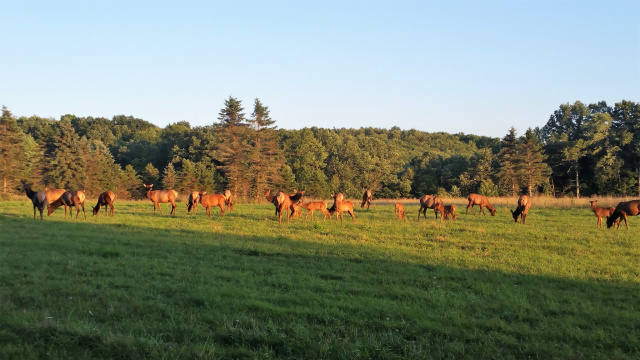 ELK Country
Pennsylvania Wilds is home to the largest wild elk herd in the northeastern United States. As part of a major conservation effort, the Pennsylvania Game Commission released 177 Rocky Mountain elks into Pennsylvania between 1913 and 1926. Today, this wild herd has over 1,000 elks.
We will drive around stopping at different viewing areas looking for a chance to see the elks in their natural setting. We will indulge our self in a ¾ mile relatively "easy" hike in prime elk viewing habitat. On the trail you will find interpretive displays and will take us to a very nice viewpoint.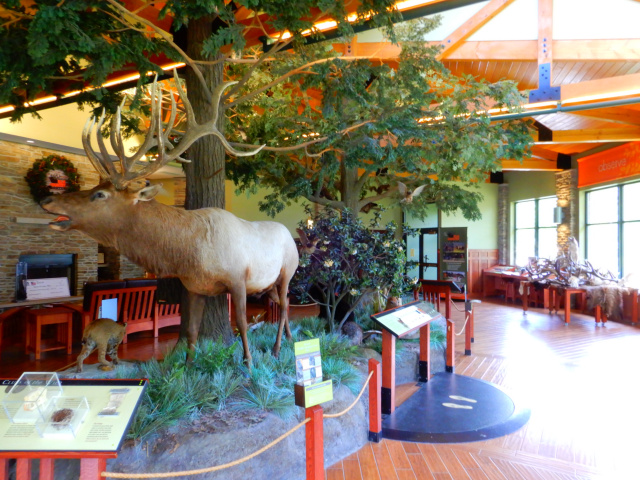 We will visit the official Elk Country Visitor Center. Here you will find interactive panels, educational displays rich with wildlife information, hands-on exhibits and an indoor observation area.
By the Visitor Center you will also find three observation trails with viewing areas and interpretive wayside displays. We will also experience an informative 4-D educational presentation in a theater. This show features multimedia sights and sounds, plus a new level of sensory experiences, all to showcase a historical account of elks in Pennsylvania as well as the behavior of elk during all four seasons and ongoing conservation efforts.
The center also feature a gift shop with apparel, unique works by Pennsylvania Wilds artisans, and other one-of-a kind Elk Country gifts. All proceeds from the gift shop go to help support the conservation of elk in Pennsylvania.
We will attempt to join a horse drawn wagon ride, this is one of the best ways to experience Elk Country, but we can unfortunately not guarantee this ride since reservations are only possible from the day before and since the ride is weather permitting.
Kinzua Bridge State Park
Visit one of the most scenic Skywalks in the World," the Kinzua Sky Walk located in the Allegheny National Forest. The Kinzua Viaduct was the highest and longest railroad bridge in the world when it was built in 1882. Six of the bridge's 20 towers were taller than the Brooklyn Bridge and it was 301 feet (92 m) tall and 2,052 feet (625 m) long.
Most of its structure collapsed during a devastating tornado in 2003. The Tornado snapped and uprooted nearby trees, as well as causing 11 of the 20 bridge towers to collapse. There were no human deaths or injuries.
The state decided not to rebuild the KinzuaBridge. Instead, it was proposed that the ruins be used as a visitor attraction to show the forces of nature at work.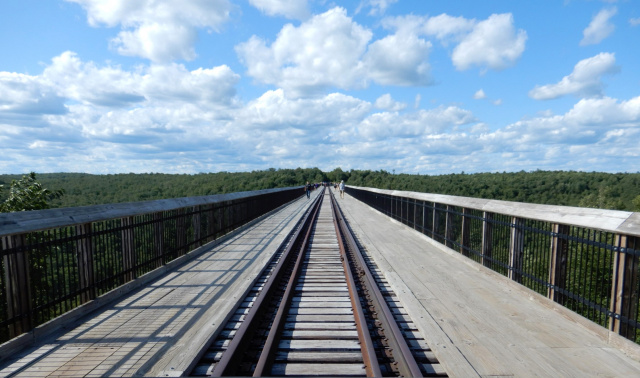 After the tornado, the remaining part was made into a sky walk which now extends 624 feet into the Kinzua Gorge offering panoramic views at 225 feet above the valley. The skywalk features a walkway with a set of railroad tracks leading to the end of the overlook which has a partial glass floor.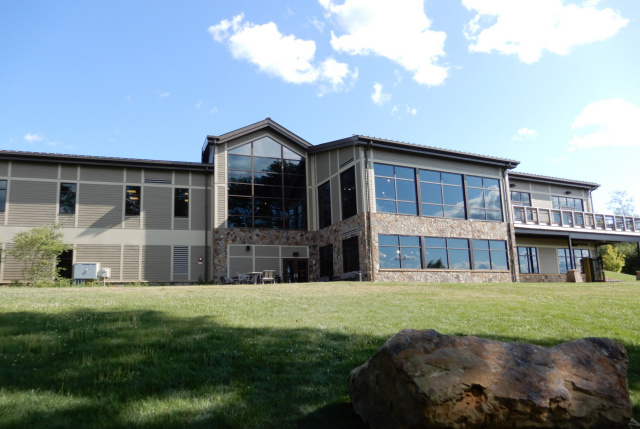 You will also find a large visitor center including educational exhibits halls and a well stocked gift shop featuring handcrafted items from the region.
You will also have time to hike down to the bottom of the valley to get another perspective of the bridge.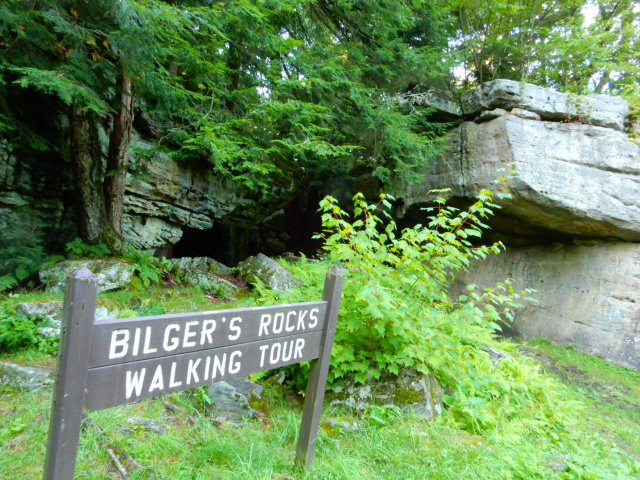 Bilger's Rocks
Bilger's Rocks is an area with unique and amazing rock formations, laid across the land from glaciers during the ice age.
Walking through a Labyrinth of Boulders, various openings, crawlspaces and natural passageways is almost surreal.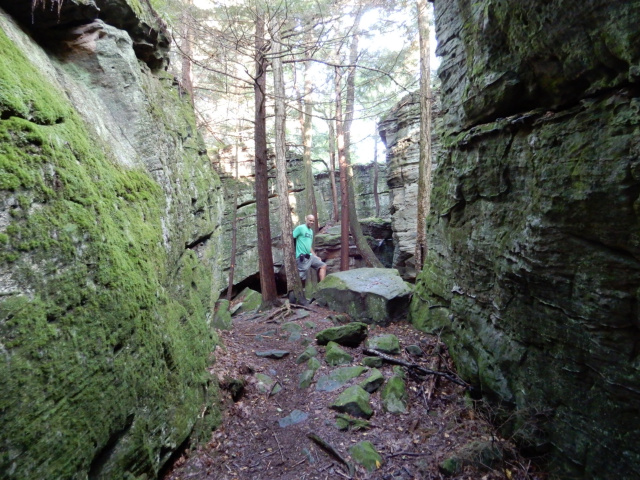 You will find tress growing in crevasses between the rocks, combined with moss and ferns, this is a truly mesmerizing place. Enjoy yourself exploring this vivid landscape with walls of huge stones, interesting hanging vegetation and uniquely shaped passageways.
Visiting Bilger's Rocks reminds some people of the ancient temples of Angkor Wat in Cambodia. If Angkor Wat is on your bucket list but you can't quit afford it, this tour might be for you.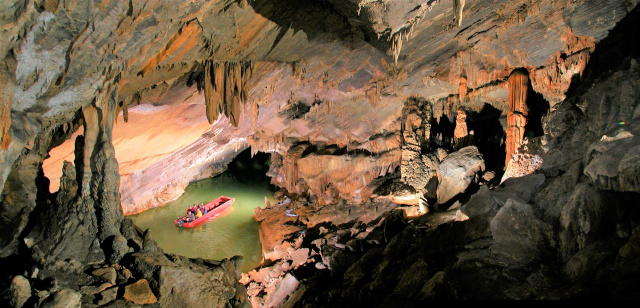 Penn's Cave
We will visit Penn's Cave. This is Americas only All-Water Cavern tour. The guided, interpretive tour by boat winds through cavern passageways and you get to see stalactites and stalagmites, often in mysteriously familiar shapes, such as "The Statue of Liberty" and "The Garden of the Gods."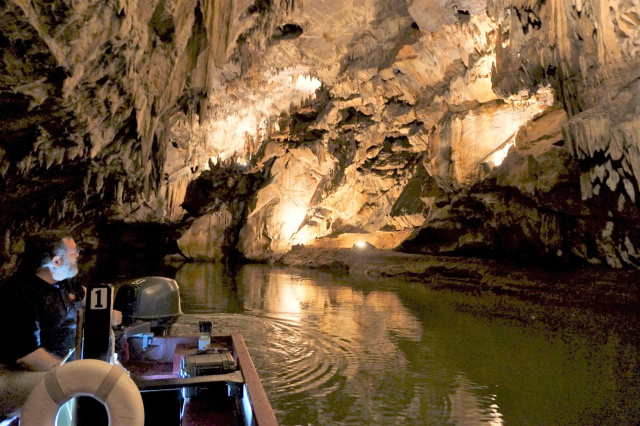 We recommend bring a light jacket or a sweater, as the inside temperature of the cave remains 52 degrees all year round.
See how dripping water has sculpted magnificent flowstone, curtains, cascades, and draperies against a background of pillars and gigantic columns.
Lake Tobias Wildlife Park
We will visit Lake Tobias Wildlife Park. This wildlife park has been open since 1965. The wildlife park is both a "regular" zoo where you can walk around and explore wildlife exhibits on foot, but are more famous for their Safari rides.
An open-air cruiser will bring you around the 150 acres of rolling land where you see herds of wild and exotic animals from around the world. The experienced tour guides will share their knowledge about the various species you encounter, as well as their habitats.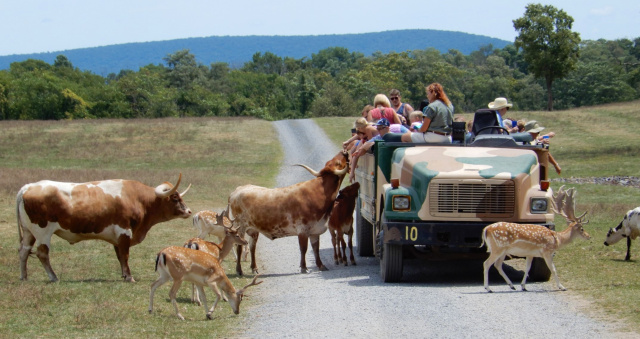 With approximately 500 animals roaming freely, you will see many different herds of animals interacting with each other, but the best part is that you can actually hand feed most of the animals from the comfort of your seat. In fact, many of the animals will come right up to you whether you have food for them or not. Getting so close to the animals is definitely a unique and interesting experience. At the park you can buy food for the animals, you are not allowed to give them your own food.