Hiking
We will start the day with a 1.6 mile loop hike in a Nature Preserve in the Catskills Mountains.
Half of the trail we will be hiking by a beautiful creek.
The trail is mostly flat with an elevation gain of 160 ft. If it has been raining the trail might be a bit muddy, so please wear appropriate footwear.
Lunch
On this tour we will eat a box lunch at a picnic area in a beautiful state park with water and mountain views.
Trail by where we will eat lunch
KTD Tibetan Buddhist Temple
Karma Triyana Dharmachakra is a Tibetan Buddhist monastery North of Woodstock, New York, which serves as the North American seat of the 17th Gyalwa Karmapa, head of the Karma Kagyu lineage.
The temple was founded in 1976 and offers traditional teachings and contemporary programs by lineage masters.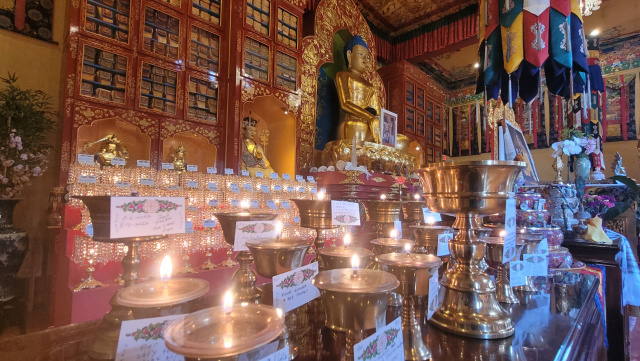 Our visit will most likely be a guided tour of the monastery, with a description of the monastery's history, the Karma Kagyu lineage of Tibetan Buddhism, and the sacred altars and artwork in the Shrine Room.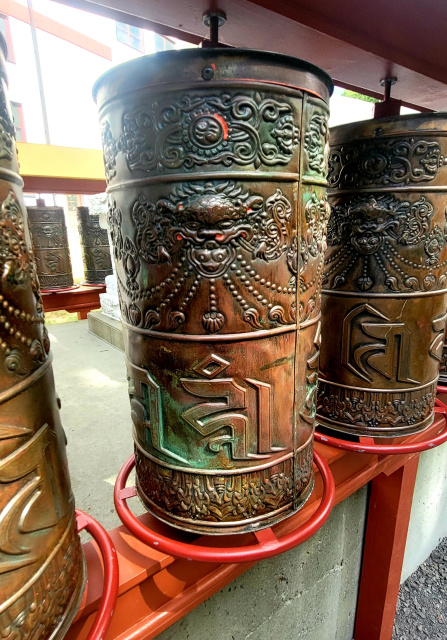 Prayer Rolls outside the temple
Apple/Pumpkin Picking – Kelder's Farm
After lunch we will drive to a farm for some apple picking. Included in the price of the tour is a choice of either Upick 1/2 Peck Bag of Apples (equals 5 - 6 pounds or 12 - 15 medium size apples) or a Free Pumpkin.
The farm has also farm animals
The farm also has a scenic pond, that you can walk around
And the farm of course also has a farm store with fresh produce
The farm has 30+ available farm attractions, including miniature golf, tube slides, farm animals, the world's largest garden gnome, jumping pillow, corn maze, and much more.
You can read more about the all the attraction by clicking here.