South West Utah - Zion & Bryce National Park Tour - 4 days/3 nights – Sat. Sept. 21st – Wed. 25th
2019 (Return
early morning)
(Saturday morning departure, return early Wednesday morning)
$899
(per person, based on double occupancy)
$1,050
(single room, must be 18 years old)
Sorry, no child discount on this tour.
To reserve a seat for this tour you must pay a $200 nonrefundable deposit per person. Remaining balance is due no later than August 16th., 2019. If the remaining balance is not received by August 16th, the reservation will be considered cancelled with loss of the deposit. Reservations for this tour made after August 16th. must be paid in full at the time of reservation (if seats are still available)
The following is included in the price:
Roundtrip airfare from NYC

3 nights of accommodation at a 2-3 Star comfortable hotel

3 breakfasts at the hotel

4 days of sightseeing & activities

All local transportation w. private van

Bryce

Canyon National Park

fee

Snow

Canyon State Park

fee

Valley of Fire State Park fee

A tour leader accompanying you from NYC

1 personal item and 1 carry on bag for the flight
Remaining meals and any snacks between meal

Any bags you have to check in

Gratuities for your guides/driver (tipping your tour guide is left to your discretion)

We will meet at JFK airport; our flight is at 6:29 am. We recommend that you arrive 4:29 am to check in and go through security. You will meet your tour leader from Hines Tours at the gate at JFK.
We will arrive at Las Vegas Airport at 8:56 am. We will take a short taxi ride to pick up a van that we will use for the duration of the tour and drive to southern Utah which is where our adventure will start.
Sat.Sept. 21st

JFK 6:29 am to 8:56 am (arrival Las Vegas) Flight #

1611
Tue Sept. 24th

LAS 11:40 pm to 7:38 am + 1 (arrival JFK 9/25 Wednesday morning) Flight # 1248
Utah is a state of unparalleled natural beauty with no less than 5 National Parks; a true outdoor person's paradise. On this tour, we will visit two of the parks, Zion and Bryce.
Snow Canyon State Park
When we drive from Las Vegas to Utah on the first day, we will "warm up" with a visit to a state park, Snow Canyon State Park. This is a 7,400-acre scenic park full of dramatic landscapes and beautiful sceneries, sculpted by water, wind and time, cutting into the Navajo sandstone cliffs. You may find yourself wondering why this place isn't a National Park - if it was located in any other state but Utah, it probably would be one.
Part of the geology was carved by lava flows exerting their powerful force, reshaping the canyons, and creating the park's distinctive landscapes. The blend of Navajo sandstone cliffs, petrified sand dunes, and broad lava fields in a strikingly colorful desert environment makes this terrain a fantastic playground for all outdoorsy people alike.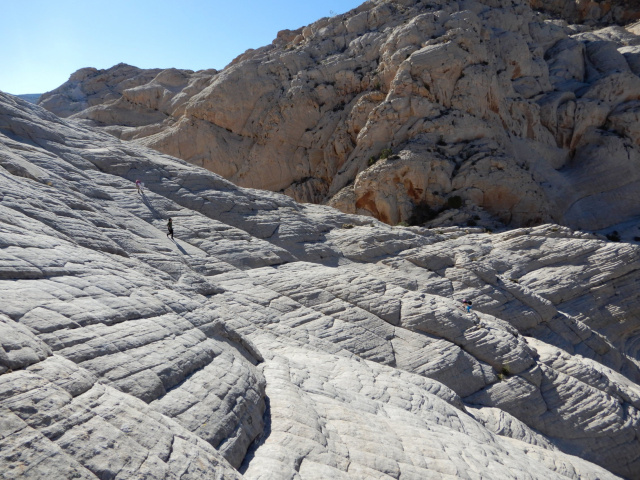 Snow Canyon State Park is located within the 62,000 acre Red Cliffs Desert Reserve, established to protect the federally listed desert tortoise and its habitat. The park offers many activities such as hiking, nature studies, wildlife viewing, photography etc.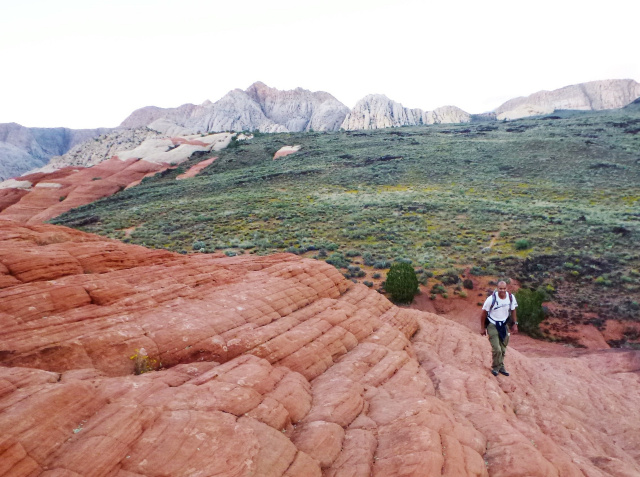 We will explore some of the hiking trails within an easy to moderate level. You can choose to hike with your tour leader or on your own.
Zion National Park
Zion National Park is Utah's first National Park, a prominent feature of the 229-square mile park is Zion Canyon, which stretches 15 miles long and spans up to half a mile deep.
The canyon is created from the Virgin River carving through reddish and tan-colored Navajo Sandstone for millions of years. The park has a unique geography and a variety of life zones that allow for unusual plant and animal diversity.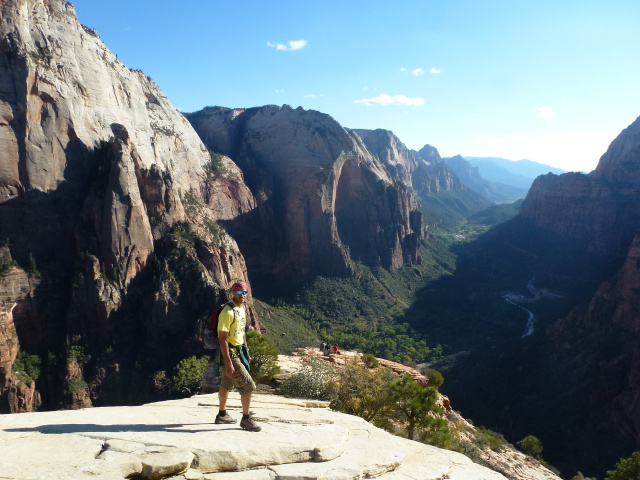 Zion is a paradise for hikers. You will find everything from easy sidewalk-grade paths with no elevation to narrow slot canyons where you have to wade in water and chain-anchored ascent of vertiginous narrow mountain trails. Zion has it all.
We are not allowed to drive with our vehicle in the main part of the canyon. The main part is only for shuttle buses which run very frequently. Your day inside the canyon is unguided, but it is very easy to take the shuttle bus to 9 different stops from where you will find numerous hiking trails of different levels. We will help you plan your day beforehand and give you advice and literature for you to find trails that will fit your comfort level and interest.
Below you will find some photos of hikes that you can immerse your self into in this beautiful place.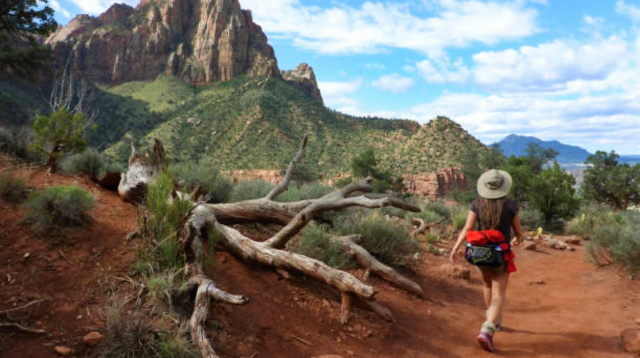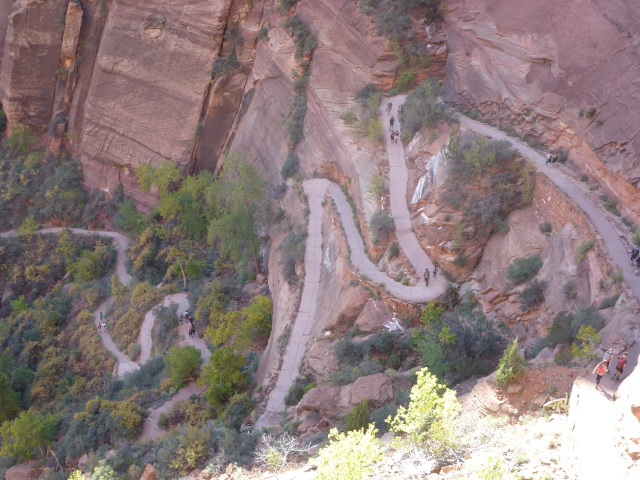 Bryce Canyon National Park

There is no place like Bryce Canyon. Hoodoos (odd-shaped pillars of rock left standing from the forces of erosion) can be found on every continent, but Bryce has the largest collection of hoodoos in the world. Photographs do not do it justice; you just have to come and see it for yourself.
Bryce's distinctive hoodoos, formed by frost weathering and stream erosion of the river and lake bed sedimentary rocks. The hoodoos are up to 200 feet high. The red, orange, and white colors of the rocks provide spectacular views for park visitors. This surreal landscape is what brings people from around the world to visit Bryce Canyon National Park.

Bryce sits at a much higher elevation than Zion National Park. The rim at Bryce varies from 8,000 to 9,000 feet. Bryce Canyon is usually 15-20 degrees colder than Zion National Park.
We will drive you to a few of the different overlooks from the rim. We will also give you ample time to emerge yourself in a hike below the rim into the expansive Bryce Amphitheater, this is the best way to experience this amazing geography.
If you don't feel like hiking below the rim, you can stay above and hike part of the flat rim trail.
Valley of Fire State Park
We will visit Nevada's oldest and largest state park, Valley of Fire.
The state park derives its name from red sandstone formations, the Aztec Sandstone, which formed from shifting sand dunes 150 million years ago. These features, often appear to be on fire when reflecting the sun's rays
We will indulge our selves in one or two hiking trails to see some of these amazing natural sandstone formations
To make this tour affordable for everyone, we will choose a basic but comfortable 2-3-star hotel with a minimum Google & TripAdvisor guest rating of 3.5 (on a 1 to 5 scale). You room will have private bath, a refrigerator, microwave, and comes with free Wifi.
Food Included in price
Day 3: Breakfast and Dinner
Day 3: Breakfast and Dinner
On the first day in the evening we will drive to a supermarket where you can buy water/snacks for the next three days. And if you really want to save money on the meals that we don't include, you can buy food here and use your room's refrigerator and microwave.
Some of the days, we will stop at a place in the mornings where you can buy sandwiches/hoagies etc. to bring on our day trips. We recommend that you bring a collapsible cooler to keep your lunch fresh. We will also inform you of alternative options if a sandwich doesn't excite you.